Why Leo's Donair...
Restaurant, Club, Catering Services or Just Fun Times with Friends and Family
Leo has taken great pride in providing Quality Donair Meat along with many other Donair products, gluten free included! It's hard not to feel proud when the Province of Nova Scotia declared the Donair as its official food in 2015.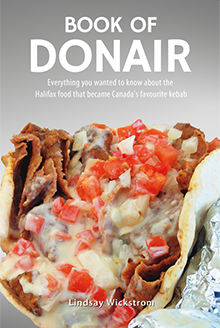 Book of Donair sold at Leo's Donair for only $15.00, Stop in and pick up your copy today!
What people are saying about Leo's Donair...
We have been buying exclusively from Leo's Donair since 2004. The quality and service is exceptional. Over the years we have been approached by other companies to provide donair meat to our restaurants, but no other product has ever been remotely close to the meat at Leo's! We will be lifetime clients!Pizzadelic LimitedHalifax, Nova Scotia,
Leo's Donair has been one of the reasons, if not the main reason, people love my shop...their donair cones are the best. They cut really nicely and their service has been A-1 since day 1 and it's been over 14 years! I've never had a problem!! Highly recommended.Owner of Toulany's PizzaChezzetcook, Nova Scotia,
One of the things I miss the most about living in NS is eating some of my favorite foods, especially the donair meat from Leo's! Whenever I go home for a visit or someone comes out West to visit me, I make sure to get a few of their donair loaves and delicious donair burgers!Sean CaseyEdmonton, Alberta,
I recently had the honour of enjoying a couple of Leo's Donair sausages. To anyone looking for such food, these have got to be the most juicy and flavorful sausages in HRM, so look no further! And on top of that, it's completely local and family owned, and there's nothing more you can ask for!To put it simply, it's a 10 out of 10!Brent StailingTimberlea, Nova Scotia,
I've always been a big fan of Leo's Donair so I was happy to hear that they are expanding. I had the opportunity to try the All Beef Burger and it did not disappoint, juicy and delicious. It's everything you could want from a burger!Morgan SullivanWindsor, Nova Scotia,
I had my first donair in 1978 when I was only ten years old, and Leo's Donair reminds me of the very first times I had a donair. It's great!Randy MurrayHalifax, Nova Scotia,
Latest News From Leo's...
Just listen to what one viewer says on Q104 about Leo's Donair. Questions: What if you don't want to go to a donair shop and want to make your own,
Halifax declares donairs the official food of the city Mayor Mike Savage casts deciding vote delivering late-night snack into status as the official dish Forget the turkey or ham, patriotic Haligonians
Leo's Donair, Supplier of Premium Donair Products
Treat your family to a meal that every one will love!